News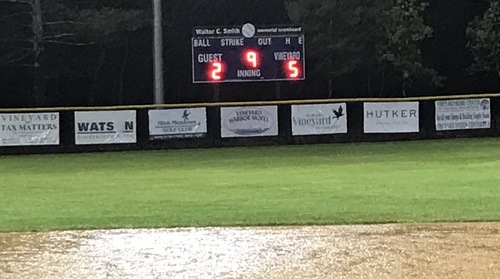 Oak Bluffs, MA -- The only game played in the Futures League on Monday night turned soggy and sour for the Worcester Bravehearts as the Martha's Vineyard Sharks defeated them on a cold, foggy night 5-2.
Vanderbilt freshman David Bates was impressive in his first start for the Sharks, allowing one run on two hits and striking out six in five innings for Martha's Vineyard. Right-hander Ian Hussian of Trinity University in Texas got the victory in relief by tossing 2 and 1/3 innings of scoreless baseball.
Worcester starter Sean Mellen became the first Northeastern student-athlete to pitch for the Bravehearts since Brian Christian on July 13, 2014. The 6-5 sophomore lefty from Norwood, MA pitched well, giving up four runs — just two of them earned — on two hits and striking out seven in 5 1/3 innings.
After the Bravehearts tied the game 1-1 in the 4th on a Chad Miller RBI groundout, the wheels fell off when the rain began falling in the 6th inning. The Sharks scored four runs on just one hit thanks to two walks, two hit batsmen, and an error in the inning. Sean Mellen was able to retire one batter but left after loading the bases. Cody Laweryson (University of Maine) took over and hit the first batter to bring in the go-ahead run. In all, the Bravehearts hit five batters in the game. One out later, the Sharks' Justin Nussbaum (Delta State) hit a roller to second base and Bravehearts' first baseman John Friday (Franklin Pierce) couldn't handle a low throw from Mariano Ricciardi (Florida Atlantic University), allowing two more runs to score. Left-fielder Blake Frampton (Trinity (TX) University) followed with a chopper up the middle that Bravehearts shortstop Tom Walraven (University of New Haven) got a glove on but could not handle, bringing in the 5th Sharks' run.
Trevor Jensen (Tulane) led the Bravehearts' offense again with two hits and a 9th inning RBI. Jensen now has 8 of the team's 24 hits on the young season. Kendal Pomeroy (Umass-Lowell) pitched a scoreless 8th inning with two strikeouts for Worcester.
Tuesday's scheduled game in Brockton against the Rox has been rained out and rescheduled as part of a doubleheader on June 22nd. The Bravehearts will be back in action on Wednesday, June 7th with a 10:30 AM Baseball in Education Day against the Seacoast Mavericks at Hanover Insurance Park.