News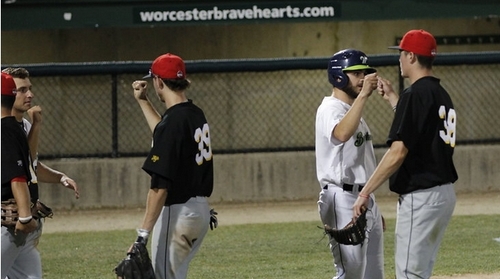 Worcester, MA — The Pittsfield Suns came into Wednesday's game struggling with a 2-8 record in their last 10 games, however they certainly didn't play like it. Pittsfield was in control of the game from the outset as they cruised to 10-5 victory over the Bravehearts. It was a frustrating game for Worcester as manager JP Pyne was ejected for arguing with the umpire, as well as a season-high six errors committed by the team on defense. The Bravehearts fell to 7-8 on the year with the loss.
Worcester went down early, giving up four runs in the first inning of play. The team showed signs of life with a brief rally to make it a 5-3 game heading into the fifth inning, but it all fell apart soon after. Pittsfield scored four runs in the fifth off of relief pitcher Kendall Pomeroy to put the game out of reach. Starting pitcher Sean Mellen took the loss after he allowed five runs on five hits through four innings of work. The Suns dominated the rest of the game much to the chagrin of the Bravehearts' hitters who were held scoreless for the final three innings.
The team saw solid offensive performances from Vanderbilt's Pat DeMarco, who was recently activated, and longtime Braveheart Dante Ricciardi. DeMarco went 2-for-5 with a double and an RBI. Ricciardi went 3-for-4, registering a triple, one RBI, and two runs scored.
The Bravhearts travel to Brockton on Thursday for a doubleheader against the Rox. They return home on Friday for a game against the Nashua Silver Knights with first pitch coming at 7:05 PM.