News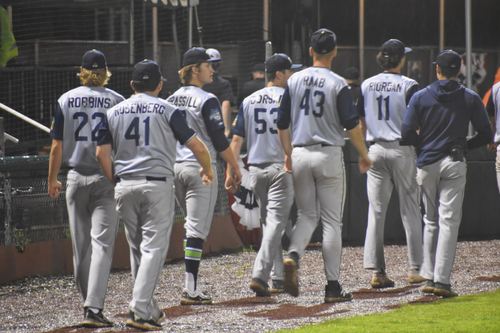 Lake Monsters Outlast Rain, Bravehearts in Series Victory
Worcester's Season Comes To An End in Vermont
Burlington, VT - The Worcester Bravehearts sat through a two-and-a-half hour rain delay in a series already delayed twice by rain before falling to the Vermont Lake Monsters 6-1 in Game 3 of the Futures League Semifinals, ending their 2023 season.
Vermont came out hot after the delay and broke the scoreless tie in the fifth inning against EJ Nevills (Amherst). The Lake Monsters loaded the bases on a walk, single, and Teddy Schoenfeld's (MIT) infield hit that got caught up in the wet grass at shortstop. He beat the throw by a half-step, keeping the inning alive. Tommy Martin (Yale) then knocked in two runs with a solid single to right, and Trevor Cohen (Rutgers) doubled in two to give Vermont a 4-0 lead.
Kyle Lodise (Augusta) added two insurance runs in the 8th inning with a solid double to left-center, scoring Khal Coney (Trinity, TX) and Jake Gaudreau (Bryant).
The Worcester offense had eight hits but only one runner advanced as far as third base before Kevin Matos (Wheaton) launched a solo home run in the 9th. They threatened in the 2nd inning after base hits by Jack Thorbahn (Northeastern) and Matos, but Vermont-starter Tristan Spalter (Babson) got A.J. Guindon (Wheaton) to bounce into a double play to end the threat.
Worcester starter J.T. Raab (Stony Brook) was efficient over four innings of work, giving up just two hits while striking out two. It was his fifth start of the season against Vermont, and he also held them scoreless in his first appearance against them in five innings on June 11.
The game was halted at 7:09 PM due to the fourth rain delay of the series. The tarp was taken off the field twice before it poured again at 8:52 PM, extending the delay until 9:35 PM when play resumed.
When the game resumed, Ben Alekson (Fairfield) came out of the bullpen for Vermont. The Vermont-native, who struck out the side in the one inning he worked on Wednesday, shut down the Bravehearts lineup for two innings and earned the victory in relief of Spalter.
The Bravehearts set a franchise record with 39 regular season wins, but they ultimately end the 2023 season short of their 8th appearance in the Futures League Championship Series.