News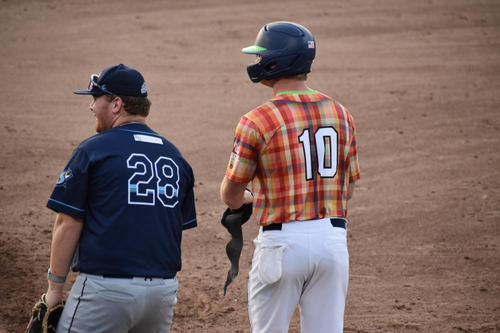 Starfires Sneak Past Bravehearts
Worcester falls 3-2 at home
Worcester, MA – The Worcester Bravehearts lost Wednesday night's home matchup 3-2 against the Westfield Starfires at Fitton Field.
The Bravehearts drop to 31-16 with the loss while Westfield improves to 23-25.
Worcester got the scoring started in the bottom of the third when an infield single by Tyler Bastunas (Drury) scored Stan Zagrodnik (Wofford).
After the Starfires tied the game in the top of the seventh, the 'Hearts answered in the bottom of the frame when Jack Thorbahn (Northeastern) hit an RBI double to drive in AJ Guindon (Wheaton).
The Starfires, however, tied the game in the top of the eighth and took their first lead of the game in the top of the ninth when an RBI single by Kiernan Caffery (American International) scored Michael Breen (Salve Regina) to put Westfield up 3-2, which held the rest of the way.
Westfield reliever Joel Valera (San Jacinto CC) earned the win, pitching a scoreless eighth inning. Toby Scheidt (Bryant) took the loss for the Bravehearts, allowing an unearned run in 1.2 innings on two hits, striking out three. Ryan Robb (Husson) tossed a scoreless ninth to pick up the save for Westfield.
The Bravehearts continue their six-game homestand Thursday evening against the Vermont Lake Monsters, with first pitch scheduled for 6:35.