News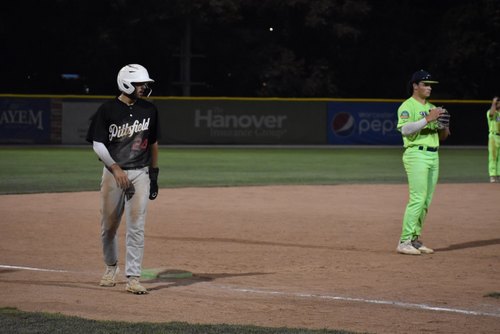 'Hearts Hammer Way to Win
Three home runs power Worcester to 10-7 win
Worcester, MA – The Worcester Bravehearts defeated the Pittsfield Suns 10-7 on Military Appreciation Night at Fitton Field.
The win propels Worcester to 29-14 while Pittsfield falls to 16-24.
After Pittsfield took a 1-0 lead in the top of the first, the Bravehearts answered with a pair of runs in the bottom of the inning. Daniel Bucciero (Fordham) hit a triple that scored Jack Thorbahn (Northeastern). Marc Willi (Michigan) then drove in Bucciero with a single of his own.
The Suns retook the lead in the top of the second on a two-run home run by Evan Blake (Bryant) and took a 4-2 lead in the third when Derek Paris (UMBC) drove in Austin Rachiele (MCLA) on an RBI triple.
Worcester made the game 4-3 in the bottom of the third when another Bucciero triple scored Tyler Bastunas (Drury). The two came through again in the fifth, when a two-run home run by Bucciero brought home Bastunas to give the Bravehearts a 5-4 lead. Greg Gorman (Bryant) added to the lead with a solo home run in the bottom of the sixth.
After Pittsfield scored twice in the top of the seventh to tie the game, the Bravehearts promptly retook the lead. Thorbahn led off the bottom of the seventh with an opposite-field home run to put Worcester up 7-6. After loading the bases, Worcester scored two more runs thanks to a Kevin Matos (Wheaton) double that drove in Bucciero and Willi.
An RBI single by Bastunas in the eighth scored Mike Maher (Wheaton) and gave the Bravehearts 10 runs on 13 hits.
Worcester reliever Champ Davis (Wofford) earned the win, allowing three earned runs in 1.1 innings, walking one and striking out two. Connor Grotyohann (Rhode Island) took the loss for Pittsfield, giving up four earned runs in 1.1 innings on three hits, walking and striking out two apiece. Robby O'Connor (UMass Amherst) pitched a five-out save for the Bravehearts, allowing no hits or runs.
The Bravehearts are on the road against the New Britain Bees Saturday before returning home on Sunday for a 4:00 contest against the Westfield Starfires.