News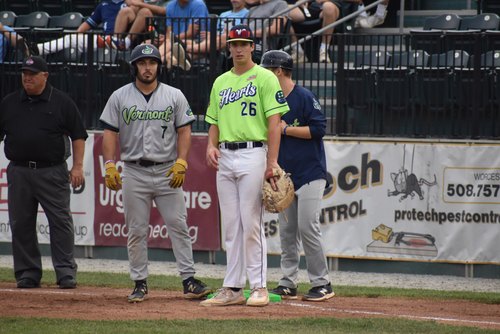 Worcester, MA – The Worcester Bravehearts dropped Wednesday evening's contest 13-1 against the Vermont Lake Monsters at Fitton Field.
The Bravehearts' record is now 28-13 while Vermont moves to 27-14.
The Lake Monsters never trailed in the game. After scoring two runs apiece in the second and third innings, a six-run fourth inning broke the game open for Vermont.
While Stan Zagrodnik (Wofford) scored in the sixth for the Bravehearts on a Tyler Bastunas (Drury) single, that would be all Worcester could muster.
Vermont scored two more runs in the top of the seventh and maintained a 13-1 lead through the end of the seventh, which resulted in the end of the game according to Futures League rules.
The winning pitcher was Vermont's Ben Alekson (Fairfield), who tossed five scoreless innings, giving up two hits and striking out 10. The loss went to Ray McNaught (Quinnipiac) for Worcester. He allowed four runs (two earned) in 3.1 innings on four hits and a walk, striking out two.
The Bravehearts return to Fitton Field Thursday night to face the Lake Monsters at 7:00. Tomorrow's game is the first of four Futures League games viewable on New England Sports Network (NESN).