News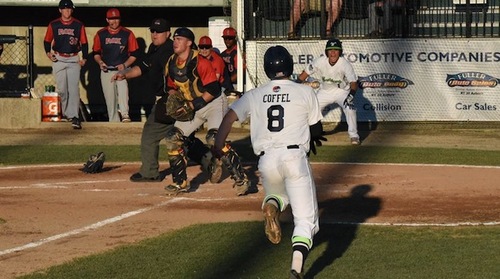 Worcester, MA — After scoring 14 runs in a loss against the Wachusett Dirt Dawgs, the Bravehearts' bats stayed hot as they cruised to an 11-5 win over the Brockton Rox. The team improved their record to 11-10 on the year in an important win over one of the best teams in the FCBL.
The Bravehearts' pitching staff played a big role in the win. Three different pitchers made appearances and none of them issued a walk during the entire game. Rollins College product Brian Auerbach got the win in a strong relief performance. He struck out six batters in four innings and allowed only two runs. Vanderbilt's Justin Willis made a strong season debut for Worcester as well. Willis struck out four batters in three innings of work and gave up only two hits.
The Bravehearts' offense came alive in the bottom of seventh inning. With the game tied at 4-4, the team exploded for seven runs and cycled through three of Brockton's pitchers, none of whom could keep Worcester off the bases. The Bravehearts kept the bases loaded for most of the inning as they drew multiple walks and registered clutch hits throughout the entire lineup. Joe Caico, the league leader in home runs, had an exceptional day at the plate, going 3-for-5 with a double and 3 RBIs. Two of his three hits and all of his RBIs came in the seventh inning alone. Pat DeMarco also had an impressive day at the plate going 2-for-4 with 3 RBIs.
"We've been feeling pretty good. Every game has been really close and I think that a winning streak is going to be coming soon," said Caico. "We're so close right now and I believe that sooner or later we are going to start winning a couple games."
The team has a full slate of games in the coming days. They take on the Bristol Blues at home Tuesday night before making a two-day road trip with back-to-back games against the Seacoast Mavericks and Pittsfield Suns. Tuesday's game starts at 7:05 PM.