News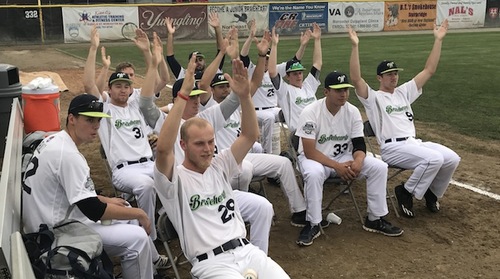 Worcester, MA - Most games in the Futures League take less than three hours. The Bravehearts' home game against the Bristol Blues originally scheduled for June 27th will likely not be finished for three weeks.
Today's first game of a doubleheader - a make-up from June 27 - was suspended in the middle of the 3rd inning tied 1-1. Lightning forced the stoppage in play, and then one hour of steady rain flooded parts of the field in a manner such that it was deemed unplayable for the rest of the evening. The game will be continued on Saturday, August 5th and will remain a 7-inning game. The originally-scheduled game on Saturday, August 5th will now become a 7 inning game and will be the second game of a doubleheader that night.
The game scheduled for July 12th has now been canceled since there is no other opportunity to make it up.
The Bravehearts struck first in the bottom of the 1st inning when Trevor Johnson doubled to left and John Friday hit a ball into the gap in left-center that was misplayed by the Blues' center-fielder and went all the way to the fence. Friday ended up on third base while Johnson scored.
The Blues tied the game in the top of the third inning when Max Goione led off the inning with a double, Logan Green walked, and Goione moved to third on a double play ball. He scored on a ground ball that was too tough for John Friday to handle at third base, but Bravehearts' starter Jakob Barker got Jayson Gonzalez looking at a called third strike to escape the inning. The stats from the game still count.
Fans holding tickets to either the June 27th or July 12th games can turn those in at the Bravehearts' box office for a ticket to any other home game of their choice. The Bravehearts travel back to Martha's Vineyard for the second time in three days tomorrow for a 7:00 game.