News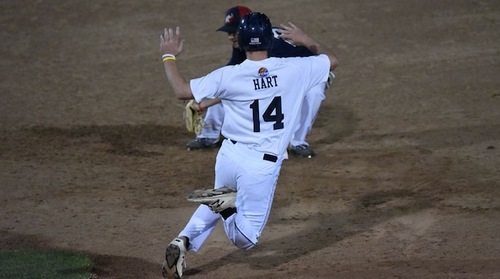 Worcester, MA- After a big loss to the Dirt Dawgs Sunday, Worcester answered back on Monday night, winning 8-5. Despite multiple home runs by Wachusett, the Bravehearts were able to pull out a victory.
The scoring got started in the second inning for Worcester. They jumped on Dirt Dawgs' starter Edward Baram early as Rafael Bournigal started things off with a one out single. Catcher Brett Coffel followed with a single of his own. After a walk by Nick Santucci, Mariano Ricciardi hit a ground ball to the third baseman Jack Gethings who bobbled the ball, allowing Bournigal to score. Kevin Doody then recorded an infield single increasing the lead to 2-0.
Worcester jumped out again in the third inning. After a leadoff walk by Dante Ricciardi, Greg Kocinski, Pat Demarco and Rafael Bournigal all singled, which brought home Ricciardi making it 3-0. Coffel then singled in Kocinski to make it 4-0. Nick Santucci was next, who popped out to center for a sacrifice fly which scored Demarco to make it 5-0.
Wachusett answered with an RBI single from Jake Byrne making it 5-1, scoring Mike Coggeshall. Nolan Kessinger then blasted a three run home run, scoring Zack Tower and Jake Byrne making it 5-4.
In the bottom of the fifth, Bryan Hart blasted an RBI single which scored Rafael Bournigal to increase the lead to 6-4.
It was not long before Zack Tower launched a solo home run, which made the score 6-5 in the top of the sixth inning.
Worcester was able to add two more runs when Bournigal and Coffel were able to score again to make the score 8-5. Brett Coffel went 4-4 on the night with an RBI, and he credited his success to his brother who traveled all the way from Florida to watch him play and give him advice.
"My brother really helped me out today," said Coffel. "I definitely feel like I was hitting a lot better."
Frank Moscatiello was able to hold the 8-5 lead and earn the save as he came on in the ninth inning.
Worcester plays Martha's Vineyard tomorrow at home at 7:05 pm. With the win, Worcester increases their record to 19-22 and is now in the sixth and final playoff spot.