News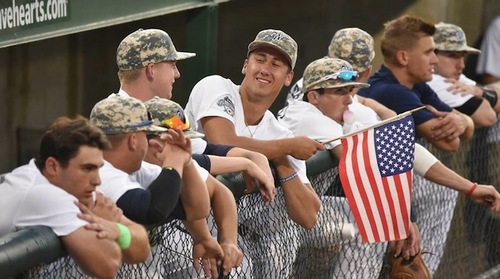 Worcester, MA- After two consecutive walk-off wins, Worcester looked to continue their magic. Seacoast had other plans. The Mavericks shut out Worcester and earned a 4-0 win.
Seacoast got the scoring started in the first inning after Jimmy Palmer reached on a walk to lead off the game. Julian Bury than bunted to advance Palmer to second. Palmer took third on the play, as there was no Bravehearts players to cover the base. Michael Goodrich then scored Palmer on an RBI single.
Sean Mellen started for Worcester. The righty gave up only 1 run in 4 innings while striking out 7.
Kendall Pomeroy came in for relief in the fifth and Seacoast tacked on 3 more runs. Jimmy Palmer got the inning started with a single. Michael Goodrich then singled with one out bringing up A.J. DiFillipo. During the at-bat, Pomeroy balked, bringing home the second run of the game. Pomeroy got DiFillipo to ground back to him, but made an errant throw to first base allowing the batter to reach. Tyler Solomon then tripled to bring home to more runs and double the Seacoast lead to 4-0.
Pomeroy's final line was 2.1 IP, 3 R, 3 H and 2 Ks.
Anthony Auletta was the story of the Bravehearts Bullpen. The lefty pitched 2 2/3 innings of scoreless baseball while giving up only 1 hit.
"The experience of pitching in Worcester has made me appreciate what I have in front of me. I love being here", said the lefty out of Sante Fe College when asked about his experience in a Bravehearts uniform.
On the other side, Troy Herterick started for Seacoast. The lefty went 6 full innings giving up only 3 hits and 0 runs. The Mavericks bullpen went 3 innings without giving up a hit.
Worcester falls to 21-24 on the season, but remains in the final playoff spot. The 'Hearts play again on Sunday at Hanover Insurance Park. The game will be at 4:05 pm against the Nashua Silver Knights.