News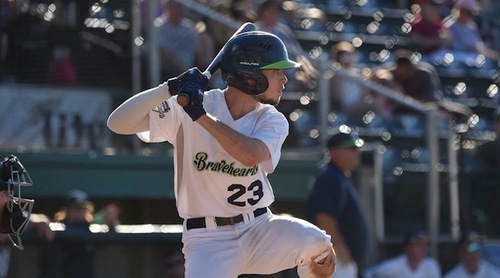 Worcester, MA- After a well-earned day off, Worcester faced off against the Nashua Silver Knights. Worcester found themselves down 10-2 in the final inning, but rallied for 5 runs. Unfortunately, that was not enough as Worcester fell 10-7 to Nashua.
Sebastian Gruszecki started for Worcester. The righty from Florida Gulf Coast had a relatively short outing going 3 1/3 IP giving up 5 runs, 9 hits and only one strikeout.
Down 2-0 in the first, Worcester found themselves in an early hole. Kevin Doody led off the bottom of the first with a base hit followed by a walk to Rafael Bournigal. Greg Kocinski was able to bring home Doody on a base hit. Bret Coffel followed with a groundout that brought home Bournigal. Worcester managed to tie the game at 2 in the first, but could not manage to get another run until the ninth.
As for Nashua, they scored twice more in the second, again in the third, tacked on one more in the sixth and 4 more runs in the 8th. They were lead by Harry Roberson who went 3-3 with a double, 3 RBIs and a walk. He also scored 2 runs.
StigErik McElhinney started for Nashua. The lefty started for Nashua and pitched 4 innings. He gave up 2 runs, and 2 hits while allowing 5 walks.
Facing a 10-2 deficit in the ninth, Worcester showed they still had some fight left. Brett Coffel started the inning with a walk followed by an error by the shortstop and a single by John Mazza. With the bases loaded, Mariano Ricciardi and Kevin Doody both hit RBI singles, cutting the lead to 10-4. Bournigal then walked, bringing home another run. A Pat Demarco sacrifice fly brought home Worcester's sixth run of the game. Greg Kocinski then hit his second RBI single of the game making it 10-7. With the bases loaded, Brian Goulard hit a sharp ground ball which was snagged on a diving play by first baseman Thomas Joyce, who was able to flip to the pitcher Kyle Murphy to end the game.
Worcester will play tomorrow at Pittsfield against the Suns. First pitch will be at 7:05 pm. With the loss, Worcester falls to 21-25 and remains at 45 points. They could fall out of the playoffs for the time being, depending on the rest of the outcomes of the league.