News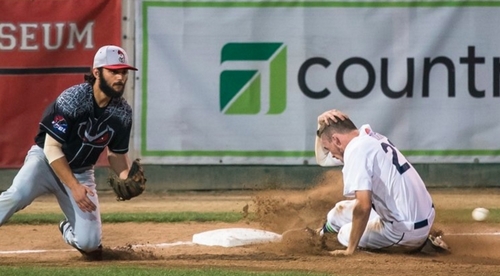 Worcester, MA- After a win in Pittsfield, the Bravehearts came back home to face Nashua yet again. Worcester's bats never got fully going, and they fell 4-2.
The 'Hearts got started early in the first as they have done many times in the past. Pat Demarco reached on an error by the third baseman Cam Cook. Greg Kocinski then doubled in Demarco to give Worcester the early lead. However, as the trend continues at home, they did not score again until the late innings.
Jakob Barker started for Worcester for the first time since coming off the disabled list. He went 3 innings, giving up 2 runs on 5 hits. He also struck out 4 batters.
Anthony Auletta came in for relief, pitching a solid 4 innings. He gave up only 1 run on 3 hits while striking out 3. Cody Laweryson came in for the remaining two innings, giving up 1 run and 1 hit.
The game-winning run for Nashua came in the 7th after Ted Williams tripled, who was then brought home on a sacrifice fly from Harry Roberson to increase the lead to 3-1.
Joe Westerman started for Nashua. His final line was 5 IP, 4 hits and 1 run which was unearned. He also recorded 5 strikeouts.
Worcester's second and final run came in the 7th inning. Rafael Bournigal singled to start the inning. Greg Kocinski doubled to score Bournigal, picking up Worcester's only 2 RBIs of the night. Kocinski finished 3 for 5 at the plate with two doubles.
"I've been battling a couple things mentally at the plate, but tonight I was able to clear my head and let it fly," Kocinski commented on his night at the plate.
Worcester goes on the road to face the Wachusett Dirt Dawgs on Wednesday and Thursday. They return home for the final home game of the season on Saturday against the Bristol Blues.
With the loss, Worcester drops to 22-26 and falls out of playoff contention for the time being.