News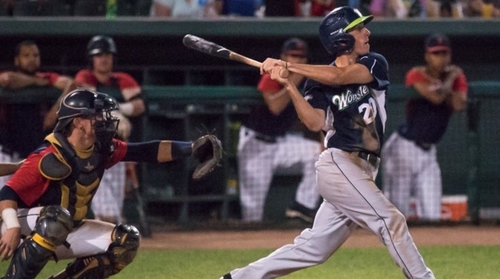 Brockton, MA- In one of the most back-and-forth games of the season, it was Worcester who came out on top. After battling with the Rox for the early parts of the game, Worcester broke it open and eventually won the game 13-8.
Sean Mellen got the start for Worcester, but Brockton jumped on the lefty early. Mellen allowed a two run home run to Chris Berry in the first inning and Worcester found themselves in an early hole. Mellen only lasted 2 innings, giving up 4 runs on 4 hits.
In the top of the second, Worcester was able to regain the lead, scoring 3 runs in the inning. With the bases loaded, Rafael Bournigal gave Worcester their first run of the night on an RBI single. Greg Kocinski doubled later in the inning scoring two more runs, making it 3-2.
In the fifth, it was Pat Demarco who singled to center, scoring Kevin Doody for the fourth run of the game.
Worcester found themselves down 7-4 and struggled to get anything going. However, in the bottom of the sixth, Rafael Bournigal doubled in two more runs to bring the Bravehearts within a run.
With the bases loaded in the seventh, Dante Ricciardi singled in Brett Coffel to tie the game at 7. It was then, where the hero of the game Nick Santucci stepped up to the plate. The left fielder took a middle-in fastball well over the right field wall to put the 'Hearts up 10-7 . They never let go of the lead.
"I was expecting the fastball. I was able to get my timing down last night, and kept it rolling tonight", said Santucci on his game winning home run.
Brett Coffel came up in the eighth inning and continued his dominance. Coffel blasted a three run home run, his third homer of the postseason.
"This has been such an unreal run, I have chills just talking about it. Tomorrow is going to be unbelievable," Coffel commented on Worcester's postseason run.
With the win, Worcester advances to the Futures Collegiate Baseball League Championship Series. They will play the Nashua Silver Knights in a best-of-three series. Game one will be tomorrow at 7:05 pm at Hanover Insurance Park. Games two and three (If necessary) will be in Nashua.