News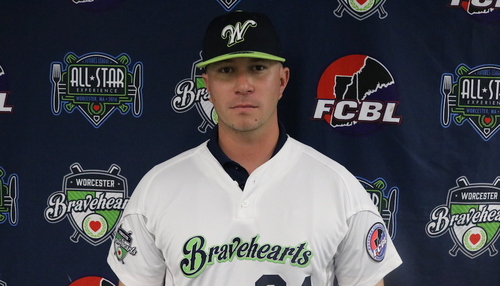 As the Worcester Bravehearts enter their fifth season, they will do so with a new face in the dugout while a familiar face will hang up his cleats for a spot in the front office. Assistant Coach Kevin Hartigan — who was the second employee in team history when he was hired in November, 2013 — is retiring from coaching and moving into the Bravehearts' front office. Westborough-native and current Milford High School varsity baseball coach Alex Dion will join the team and take his place on the field.

Dion is a 2011 graduate of Western New England University and has coached locally for the past seven years. He was an Assistant Coach at Milford High School for four seasons before being offered the job of Head Coach of the varsity baseball team last September. With the Bravehearts, he will unite with another person connected to Milford's proud baseball heritage: Manager J.P. Pyne, a Milford High School graduate.

Alex Dion is a familiar name in Northborough baseball circles as well. He's had two coaching stints with Northborough American Legion Post 234 from 2011 - 2013 and again from 2016 - 2017. In between, he coached for Team Mizuno Northeast based at Hit Quarters in Shrewsbury.

"I'm honored and excited to be joining the Worcester Bravehearts organization and J.P. Pyne's coaching staff," said Dion. "I want to thank the Creedon family, GM Dave Peterson, J.P. Pyne and the rest of the Bravehearts for this opportunity. I am looking forward to working with this staff and our players this summer to continue to build on what has become such a first class organization with a rich winning tradition in the Worcester community."

Hartigan, a West Boylston resident who also retired from the Worcester Fire Department in 2015, is becoming the Director of Baseball Operations for the Bravehearts. He'll take on more responsibilities in the Bravehearts office, where he primarily handles player recruitment and spearheads the team's host family program. This year, he'll also be reading books and representing the Bravehearts at over thirty local schools in the team's Ticket to Read Program that rewards students with a free ticket for every ten books they read.

"I'm honored to continue working for the Bravehearts and the Creedon family in the capacity of baseball operations," said Hartigan. "Even though fans won't see me on the field, they can expect to see me in the stands at each game with our host families, player families, and Major League Baseball scouts so that we can keep our baseball team moving in a positive direction."

Hartigan's relationship with other MLB scouts is particularly of interest since he, too, has worked in scouting for over 18 years and is currently an area-scout for the New York Mets. He expects the new position to allow him more time to provide valuable input to the dozens of scouts who visit Hanover Insurance Park each season. The Bravehearts have had nine players drafted by Major League teams in the last three years including Hopedale's Ian Strom, taken by the New York Mets in the 22nd Round of the 2016 draft.

"This is an important step in the growth of the Bravehearts on the field," said General Manager Dave Peterson. "Kevin Hartigan is a valuable asset to our franchise because of the work he does evaluating talent as he assembles our roster and then finding housing for our players with local host families. The addition of Alex Dion allows us to keep someone with a strong work ethic and familiarity of local talent in the dugout while Coach Hartigan can focus more on strengthening our relationships with scouts, coaches, and the community."

In addition to Pyne and Dion, Pitching Coach Casey Cummins will return for his fifth season with the Bravehearts. Cummins is the current Assistant Coach at Sutton High School and has also coached at Nichols College.

The Bravehearts begin their season May 30th at home against the Nashua Silver Knights. Season tickets, 5-game plans, and group tickets are now on sale by calling the Bravehearts box office.