News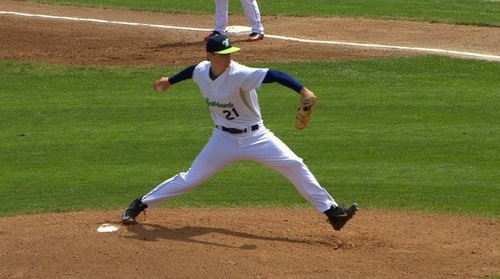 Worcester, MA — The Bravehearts continued their offensive hot streak, scoring nine runs on eight hits on their way to an easy 9-3 win over the North Shore Navigators. In front of a sold out crowd of over 3,000, the team dominated the game on both sides of the ball, making the Navigators look completely lost on the field as they committed a handful of errors and cycled through a significant portion of their bullpen.
The Bravehearts got a strong performance from their starter, Jack Hodgson, who notched his first win of the season. The Boston College product struck out seven batters through five innings of work, allowing just two earned runs on four hits. University of Maine pitcher Cody Lawyerson was strong in relief as well. Lawyerson struck out five and allowed one hit through two innings.
The team saw an excellent performance from Assumption College sophomore Derek Adamson, who made his team debut in place of the injured Nick Barry who was recently placed on the 15-day disabled list. Adamson went 2-for-4 at the plate, earning three RBI's.
Hopedale native and University of New Haven's Joe Caico earned player of the game honors for his stellar performance. Caico was perfect from the batters box, going 3-for-3 with two doubles and two RBI's.
In true Braveheart's fashion, Caico deflected the individual praise given to him, focusing on the team's overall performance in the win. "Our team's seeing the ball good, we've put up almost double digits now in two games in a row," he said. "The lineup is getting stronger, we're all swinging the bat really good right now. Pitching has been unbelievable, they have been doing a really good job for us, our bullpen has been shutdown and that's what's gonna get us wins out here."
With the win, the Bravehearts improve to 4-2 on the season and look to maintain their hot streak against the Seacoast Mavericks in Portsmouth, NH on Friday. The team returns to Worcester on Sunday, June 11 for a game against the Bristol Blues. First pitch is at 4:05 PM.