News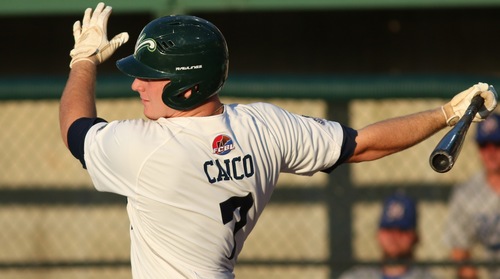 Portsmouth, NH -- The Worcester Bravehearts continued their offensive assault on Futures League pitching by hitting a team-record five homeruns at Leary Field in Portsmouth, NH in a 12-2 win over the Seacoast Mavericks Friday night.
Right-fielder Trevor Jensen (Tulane University) had another impressive game at the plate, going 3 for 5 with two homeruns and 3 RBI. He broke out of a brief 0-9 slump and raised his average to .367. His 11 hits are now second in the Futures League.
Greg Kocinski (Marist College) and Trevor Johnson (Dartmouth) also had big games while notching their first homeruns of the season. Kocinski was 2-4 with 2 RBI and Johnson had 3 RBI and walked twice. Both players joined the Bravehearts this week after finishing out their respective college seasons. Joe Caico hit is second homer of the year and has now homered in two straight games at Leary Field, dating back to opening day in 2016.
Each member of the Bravehearts starting lineup had at least one hit in the game, and the team finished with 17 for the night. With 42 hits in their last three games, the Bravehearts have raised their team batting average from .186 to .272. This is the second time in three days that the Bravehearts have tallied 17 hits in a game against the Mavericks pitching staff.
University of Hartford junior Billy DeVito recorded his first victory of the season by pitching six strong innings of 3-hit ball and surrendering just two unearned runs. Central MA products Kendall Pomeroy (UMass-Lowell) and Matt Geoffrion (University of Maine) finished off the victory by pitching three innings of scoreless relief. Starter Troy Herterick (Belmont Abbey) took the loss for the Mavericks, dropping to 0-2 on the season.
The Bravehearts will have Saturday, June 10th off but will be back in action on Sunday the 11th at Hanover Insurance Park at Fitton Field with a 4:05 matinee against the Bristol Blues. It's baseball card night at the H.I.P., with Bravehearts baseball card packs to the first 300 kids.