News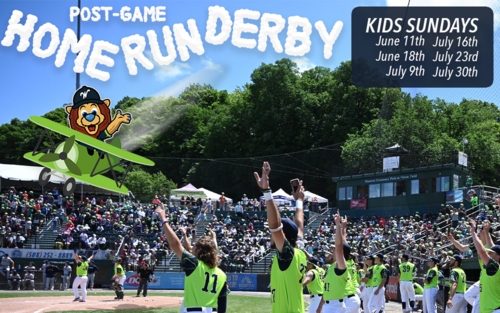 Worcester, MA- The Worcester Bravehearts have announced today that they will have a twist to their 2023 Sunday Home Games with the debut of their "Home Run Derby Sundays" Series.
Taking a page out of their 2022 "You-Choose-The-Rules" book, the Bravehearts will be bringing back the post-game home run derby for 2023 for every Sunday home game. In 2022, both of the Bravehearts You-Choose-The-Rules Games featured a post-game home run derby. In 2023, this will be the case on June 11 and 18, and July 9, 16, 23 and 30.
As an added experience, select groups will actually be able to play the outfield as ball-shaggers for the Home Run Derby. The Bravehearts believe this will be another promotion fans will only be able to see at Fitton Field.
"We've done a great job over the last 18 months of coming up with one-of-a-kind experiences," said Bravehearts Director of Fan Experience Donny Porcaro. "From You-Choose-The-Rules, to our Rally Jerseys, to now the Home Run Derby, we want to make sure when you walk into Fitton Field, you will see something that you have never seen at a baseball game-or sporting event before."
The Futures League has been notorious for Home Run Derbies since 2017 when it became the first league in baseball to end a game in a home run derby. The league currently has a rule in place where if a game is tied after 10 innings, the game will automatically go to a home run derby. With the Bravehearts Home Run Derby Sundays, fans will now be guaranteed to see a derby if they come out on a Sunday.
"You can find things like t-shirt tosses, kids running the bases and fireworks at most baseball games," said Bravehearts Assistant General Manager Nate Gonelli. "We still do those things at the Bravehearts, but something like a Home Run Derby every Sunday? That only happens at the Bravehearts."
There is still limited availability for groups to participate as ball shaggers in the home run derby. If interested, contact Bravehearts Director of Fan Experience Donny Porcaro at [email protected].
Single game tickets for Sunday Home Games to see the Home Run Derby can be purchased at worcesterbravehearts.com or by calling the Worcester Bravehearts office at 508-438-3773.