News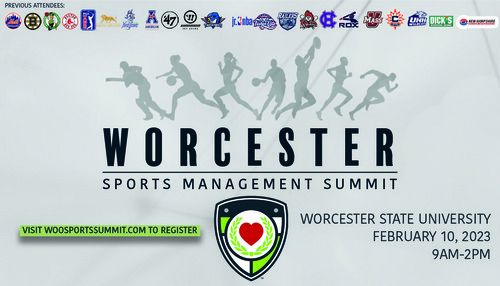 Worcester, MA - The Worcester Bravehearts have announced today that 2023 will mark the return of the annual Worcester Sports Management Summit hosted by the team. The Summit will be held on February 10th, 2023 at Worcester State University and will be open to all high school and college students looking to break into the sports industry.
The Summit will contain three separate events, including a career fair, a keynote address, and discussion panels involving the biggest trends in sports such as sports gambling, NIL deals, NFT's in Sports and more. The panel discussions will be hosted by a diverse group of professionals in the sports industry from teams and sports businesses from the Northeast.
In 2019, the team debuted the annual Worcester Sports Management Summit at Worcester State, but the event was discontinued during 2021 and 2022 due to Covid-19.
In 2020, the Bravehearts welcomed over 200 students to the Summit. Organizations with representation included the Boston Celtics, Boston Red Sox, Boston Bruins, MGM Springfield, Jr. NBA, Mohegan Sun, Connecticut Sun, New Hampshire Fisher Cats, Holy Cross, Mass Golf, UMass Amherst Athletics, Warrior Ice Arena, Worcester Railers, Mass Pirates and others.
"This is the most exciting event of our offseason for me," said Bravehearts Director of Fan Experience & Media Donny Porcaro Jr, who attended the Summit in 2019 and 2020 as a student. "Finding a job in sports in the last two years has been harder than it's ever been. We're thrilled to give students an opportunity not only to get in front of hiring managers, but to learn the newest trends in sports post-pandemic."
The cost for current high school and college students attending the event is $40, with an early-bird special of $35 if they sign up before Christmas Day. Students can sign up at www.WooSportsSummit.com.
"We consider the Worcester Sports Management Summit the most essential sports business conference in the region for high school and college students," said Bravehearts General Manager Dave Peterson. "This is not your typical career fair. We will have business professionals with real world experiences in the latest trends in sports connecting with the minds of future sports management professionals."
The Bravehearts are currently working with local high schools and colleges to build this programming into school syllabi so full classes can take field trips to the Summit. The team will offer discounted group rates for schools who wish to bring out their classes.
For more information, please visit WooSportsSummit.com or email Bravehearts Director of Fan Experience & Media Donny Porcaro Jr at [email protected].