News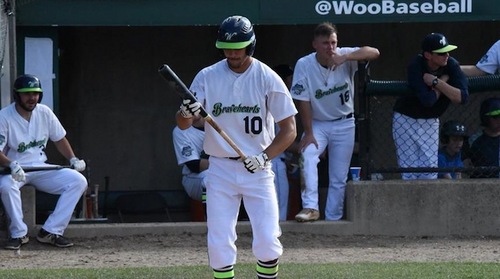 Lynn, MA— The Bravehearts continue their mid-season skid, as they lose a 5-4 ball game to the Navigators after hitting just one home run in the HR Derby.
The Navigators jumped out to an early lead in the first inning. Starting pitcher Jack Hodgson walked the first two batters, and then North Shore took a 1-0 lead after Tyler Kapuscinski hit an RBI single. After hitting Nick Falkson to load the bases, Hodgson exited the game with an injury and was replaced by Brian Auerbach. An Alex Brickman sacrifice fly and an RBI single off the bat of Jeff Mejia allowed the Navigators to take a 3-0 lead after an inning of play.
However, the Bravehearts would respond with four runs of their own the very next inning. With two runners on base, John Mazza hit an RBI single for Worcester's first run. Dante Ricciardi then hit a single to Berezo at second base whose errant throw to first allowed Friday to score. A Kevin Doody sacrifice fly and a Trevor Johnson RBI double gave Worcester a 4-3 lead.
In the seventh inning, Daane Berezo hit a home run off Tyler Lonestar to tie the game at four. After the score was still tied at the end of 10 innings, the game went to a Home Run Derby, which is a new feature for the Futures League this year. With Joe Caico out with a sore hamstring, the Bravehearts mustered just one home run off the bat of Trevor Jensen. Greg Kocinski and John Friday were unable to hit any out. Alex Brickman then hit two home runs for North Shore to win it.
Worcester received a tremendous outing from Brian Auerbach, who pitched six innings of baseball without allowing one run to score. J.P. Pyne characterized Auerbach's performance as "unbelievable." For Hodgson, his injury does not sound very serious as Pyne said, "anything we question at all, with pain in his arm, we are going to take the safe road."
With the loss, Worcester falls to 11-14 on the season, while the Navigators improve to 8-14. The Bravehearts continue play tomorrow night in Bristol against the Blues at 7:00.