News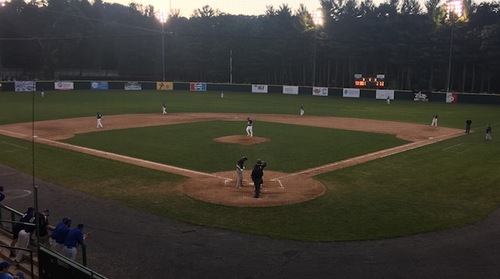 The Bravehearts traveled to Bristol on the last day of their long road trip with hopes of breaking a four game losing streak. Entering the game in last place in the Western Division, the Bravehearts could not snap their skid as they went down with a final score of 4-1. Worcester has now lost their previous five meetings against Bristol.
Bristol started off the scoring early in the second inning. With two outs and Garret Blaylock on first base due to a walk, Bristol got on Bravehearts starting pitcher Justin Willis early. After Catcher Josh Zbierski was hit by a pitch, Left fielder Nick Moore brought home the first run of the game on a base hit to left. Max Goione continued the inning with a two run single up the middle to make it 3-0.
Worcester got on the board for the first time in the fourth inning with the help of John Friday. After a Kocinski double, Friday stepped up with two outs and lined a base hit to center scoring Kocinski. Unfortunately for Worcester, that was the only run they were able to get in the game.
The Blues added on to their lead in the fourth. After Josh Zbierski was hit by a pitch for the second time in the game, Nick Moore doubled, bringing him home to make it 4-1. That run would end up being the last run scored in the game for either team.
Justin Willis started for the Bravehearts, but had a very short outing. The final stat line for the righty out of Vanderbilt was 2 2/3 IP, 3 R, 3 H, 1 BB, 1 HBP. Jon Fisher came in for relief in the third for Worcester. Fisher went two innings giving up 1 run and 2 hits. He also struck out 3 batters.
Ross Weiner countered for Bristol and shut down the Bravehearts bats. He went 6 2/3 giving up only 1 run despite allowing 5 hits and 4 walks. Anthony Marrone came in for relief for Bristol and held the Bravehearts scorless into the ninth.
Tommy Curtain came in for the ninth and got the save for Bristol despite allowing runners to reach second and third.
With his team dropping it's fifth straight, manager JP Pyne remained positive about the season.
"Nobody is giving up, we just need to play better" said Pyne. The long road trip did seem to have an effect on Worcester as even J.P. Pyne said "It will be good to be back home."
Worcester returns home for a Fourth of July afternoon game against the Western Division leading Wachusett Dirt Dawgs. First pitch is at 1:05 PM.