News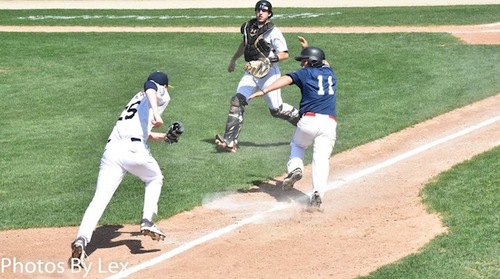 Worcester, MA- Worcester came into their fourth of July match-up against the Wachusett Dirt Dawgs riding a five game losing streak. They were able to come out on the winning side of a pitcher's duel in a 2-1 nail-biter.
The Dirt Dawgs struck early in the first, but it managed to be the only run they scored in the game. After a Dante Ricciardi error that brought in leadoff man Jack Gething which was hit off the bat of former Braveheart Zack Tower, starter Billy Devito managed to get another former Braveheart Mike Coggeshall to pop out to end the inning.
The Bravehearts managed to tie the game in the fourth inning due to an absolute blast by Greg Kocinski. The big lefty launched a solo home run to right field, tying the game for Worcester.
The go-ahead run did not come until two outs in the eighth. After a Mariano Ricciardi base-hit, Trevor Johnson was able to hit a ball down the right field line that just squeaked fair. The double scored Ricciardi from first and the 'Hearts did not lose the lead.
Billy Devito got the start for Worcester looking to continue his dominance this season. He did just that as he continues his emergence of being the team's ace. Devito went 6 1/3 IP only giving up one run, which was unearned. He struck out six while allowing six hits. The pitcher from the University of Hartford lowered his season ERA to an outstanding 1.17 over five games started this season.
"This win will wake us up," explained Devito, as he was confident in his team's mentality going forward.
The Dirt Dawgs countered with Eddie Santiago, who managed to stay with Devito throughout his outing. The lefty out of Mitchell College went 5 1/3 IP giving up only 6 hits while striking out 4. Santiago lowered his ERA to 1.83, as he has also had a stellar season.
Cody Laweryson came in to replace Devito and was stellar. The right pitched 2 2/3 innings of scoreless baseball while only allowing 2 hits and striking out 3.
The Bravehearts hit the road again tomorrow night to face off against the North Shore Navigators. First pitch will be at 7:05 at Fraser Field in Lynn, MA.