News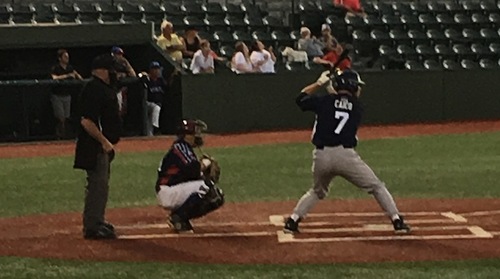 Lynn, MA — A real duel occurred on the mound of Fraser Field between the Bravehearts and the Navigators with the Navs coming out victorious in a 4-3 win. The pitching was dominant until the late innings when the bats came alive for both ball clubs.
Jakob Barker got the nod for the Bravehearts, going six strong innings while allowing only four hits, two earned runs, and fanning seven Navigator hitters. On the other side it was Austen Michel, who went six and two thirds, also allowing four hits, three earned runs, and striking out four. On the back of Barker, Worcester led 3-2 in the seventh. Tyler Lonestar was in to keep the lead, however one bad pitch allowed for a bases-clearing triple to bring home two runs and give North Shore a 4-3 lead they never relinquished.
Right Fielder Joe Caico continued to show off his power with a game-tying homer in the seventh inning which sparked a rally for the Bravehearts. Then with the bases loaded, Trevor Johnson was able to draw a walk and bring home the go-ahead run. Shortstop Bryan Hart was 2-4 with a one-out triple in the ninth, but he was left stranded at third.
Pitching coach Casey Cummins had nothing but praise for his starter from tonight's game.
"The biggest thing we talked about pre-game was getting ahead, and that's exactly what [Jakob Barker] did tonight," said Cummins. Cummins thinks things will turn around for the team in the second half of the season. "I love the way this team fights, the fight we have is incredible and I can't wait to see where this team goes in the second half of the season" Cummins emphasized.
The Bravehearts are back home tomorrow at 10:30 am to take on the Pittsfield Suns. Then on Friday the 'Hearts are home once again for another 2016 championship rematch versus the Nashua Silver Knights.