News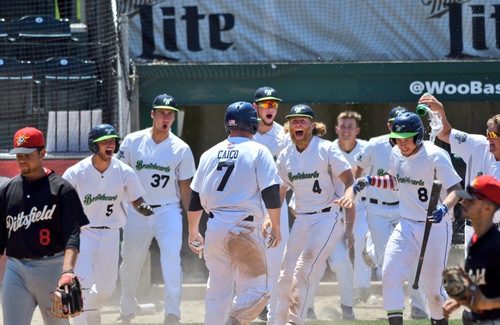 Worcester, MA- The Bravehearts got up early for a 10:30 am start time at Hanover Insurance Park. After losing a heartbreaker in their previous game in North Shore, Worcester bounced back in a big way. The Bravehearts scored 3 runs in the bottom of the ninth to win 3-2 against the Pittsfield Suns.
Through six innings of play the game remained scoreless. Worcester Bravehearts starter Sean Mellen threw five innings of scoreless baseball. Although Mellen got into occasional jams, he managed to get the Bravehearts through 5 innings. His final line was 0 R, 2 H, 5 BB, 8 Ks.
Pittsfield countered with Austin Pope who dominated the Bravehearts' lineup through seven complete innings. He only allowed two hits and did not allow a single Bravehearts run.
The first run in the game did not come until the seventh inning. With one out, Kevin Donati doubled off of Worcester reliever R.J Hall. After getting Sean Phelan to ground out to first, third baseman Cade Cavalli singled, bringing home Donati to make it 1-0. The next batter, Andre Marrero, brought home Cavalli for the second run of the game after he doubled in nearly the same spot as Donati. The Suns lead was increased to 2-0.
Despite threatening in the 8th, Worcester was not able to light up the scoreboard. With runners on second and third with only one out, Kevin Doody grounded out to third, failing to score the run. Pat Demarco followed with a pop-out to the catcher.
It was not until the ninth inning that Worcester got on the board. Greg Kocinski started the inning with a home run to right field on the very first pitch off of Pittsfield closer Jake Rockefeller.
"I was looking for a slider to take a rip at it, and that's exactly what I did," said Kocinski. When asked about the team's confidence after the win, he responded "This should definitely get us rolling."
After allowing a double to John Friday and then hitting Joe Caico, Rockefeller was replaced by Brian Rodriguez. The righty intentionally walked John Mazza to bring up Bryan Hart. Rodriguez walked Hart to tie the game up 2-2, which brought up Brett Coffel. Coffel didn't even get a chance to swing the bat as the first pitch he saw got past the catcher Kyle Beaulieu, allowing Caico to score the winning run from third base.
Frank Moscatiello earned the win for Worcester, pitching the final inning and a third. He allowed only one hit while striking out three.
Worcester hopes to build off of the win as they face off against the defending champion Nashua Silver Knights tomorrow night at Hanover Insurance Park. First pitch is scheduled for 7:05 pm.