News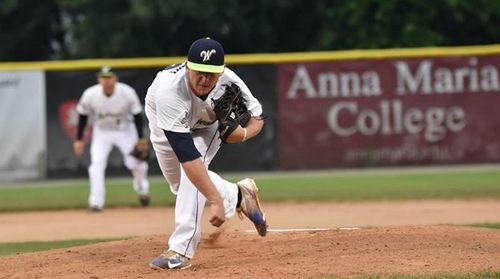 Worcester, MA- The Worcester Bravehearts were able to pull out a victory despite a late inning surge by the Nashua Silver Knights. Worcester had a seven run lead going into the 8th inning, but managed to escape by a final score of 8-6.
Sebastian Gruszecki continued the Bravehearts streak of dominant starting pitching going 7+ innings in his first home start with the team. Despite allowing 10 hits, the righty out of Florida Gulf Coast only allowed 3 runs, two of which came across the plate after he was done pitching. Because Gruszecki allowed the runners to reach base, he was responsible for 3 earned runs. He also managed to strike out seven batters.
"It was everything I imagined" exclaimed Gruszecki when asked about pitching in front of the Worcester crowd. Sebastian credited part of his success to his team's offense. "They were huge today, it kept me dialed in the whole game".
The Worcester offense got going early, scoring 3 runs in the second inning. John Friday led off the second with a walk followed by a Pat Demarco single and a Brett Coffel walk. Dante Ricciardi got the first run of the game in with a sacrifice fly. His brother Mariano continued with a base hit scoring another run. A second run managed to score on the same play after a throwing error by the left fielder Luke Tyree.
Worcester continued in the very next inning. After Greg Kocinski singled and Friday reached on an error, Joe Caico hit his league leading ninth home run of the year, extending the Worcester lead to 6-0.
Worcester extended their lead after Kevin Doody scored on a passed ball in the fifth. Doody scored the Bravehearts' eighth run of the game on a Joe Caico sacrifice fly in the seventh.
Going into the eighth, Worcester enjoyed an 8-1 lead. However, that lead was trimmed dramatically after Gruszecki was pulled from the game. After giving up a double, then a single, Gruszecki was pulled in favor of Kendall Pomeroy. The righty from UMass-Lowell struggled, giving up 3 hits and a sacrifice fly in the four batters he faced. He was credited for 3 earned runs.
Cody Laweryson managed to get the final two outs of the eighth, both by way of the K. However, the Hearts' found themselves only up 8-6 by the end of the inning.
Frank Moscatiello asserted his dominance as the Worcester closer, pitching a perfect ninth inning to earn the save.
Worcester takes tomorrow off before heading off to Pittsfield on Sunday. First pitch will be at 5:00 pm.