News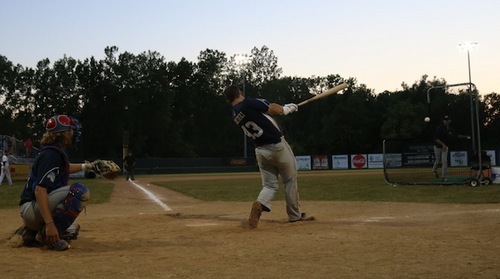 Pittsfield, MA — A crisply-played game on a sunny afternoon in Pittsfield ended in dramatic fashion for the Bravehearts as they lost their second Futures League Home Run Derby 4-3.
After ten innings, the score remained tied 2-2 and the Bravehearts sent Joe Caico and Greg Kocinski— with 15 home runs on the season between them— to the plate in the three-minute timed home run derby. Caico was able to hit three home runs, but Kocinski came up empty. Pittsfield's Andre Marrero (Quinnipiac) hit four home runs in less than a minute to win the game for the Suns.
Brian Auerbach's first start of the season was a memorable one for him and will go down in Worcester Bravehearts' history. The righty from Rollins College struck out 12 of the 23 batters he faced in five and one-third innings, setting a new franchise record for strikeouts in one game in the process. Perhaps even more impressive, he didn't walk a batter and consistently attacked the strike zone with a mix of inside fastballs and breaking pitches on the outside corner. He left in the fifth inning having given up two runs on seven hits, which were mainly ground balls that found their way through the infield.
"I had everything working," said Auerbach. "I was punching guys out so I felt pretty good about my outing. I ran into a few three ball counts, and basically my approach was just to not walk anyone. I'd rather give up a hit than a walk. I wasn't aware about the record, so that was pretty cool."
Pittsfield was able to break through against Auerbach in the third inning. The bottom of the order came up big for the Suns as Brett Janofsky led off with a single, stole second, and moved to third on a Conor Moriarty single to right. After Moriarty also stole second, Kevin Donati of SUNY-Albany grounded a single through the drawn-in right-side of the infield to score both Pittsfield runs.
John Friday brought the Bravehearts back with two big hits of his own. With one out in the 4th, Kevin Doody (University of Maine) grounded a single up the middle and stole second just one pitch after he was almost picked off of first base. After Greg Kocinski struck out, John Friday (Franklin Pierce) came through in the clutch with a sharp grounder that hopped over the third-baseman's glove and scored Doody to make it 2-1. In the 8th inning, Worcester played small ball when Trevor Johnson led off the inning by getting hit by a pitch. Kevin Doody followed with a sacrifice bunt. Greg Kocinski moved the runner to third with a groundout and John Friday followed with a line-drive hit to left field to tie the game at two.
The Bravehearts' bullpen was also impressive as Tyler Lonestar (St. Mary's) and Matt Geoffrion (University of Maine) combined to pitch 4 2/3 innings of scoreless relief with two sun delays in between. The sun sets in centerfield at historic Wahconah Park, so the game was delayed for a total of 21 minutes in the bottom of the 9th inning with Geoffrion on the mound.
The Bravehearts head to Bristol Monday night for a 7:00 game and then visit Martha's Vineyard on Tuesday before returning home.