News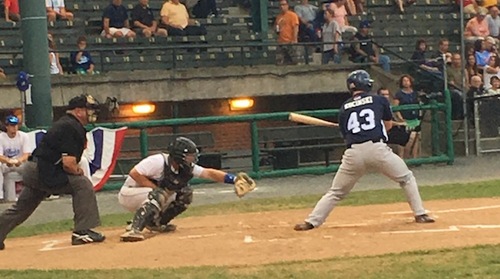 Bristol, CT — All parts of the ball club were needed tonight at Muzzy Field as the Worcester Bravehearts took on the Bristol Blues. The Bravehearts came out on top in a 5-4 win with a full effort from the pitching, hitting, and defense.
Justin Willis, the soon-to-be Freshman at Vanderbilt University, got the ball for Worcester. Willis had a strong outing going 4 1/3 innings, only allowing two earned runs and striking out six. Willis did allow six walks but he worked hard and was able to get himself out of tough spots when needed.
The game got a little shaky when R.J. Hall came in and allowed five hits and 2 runs, allowing Bristol to jump out to a 4-2 lead. Hall was able to settle down, however, and ended up getting the win. Kendall Pomeroy and Cody Laweryson also were strong in relief, not allowing a hit in their combined two and two thirds innings of work.
The Bravehearts jumped out to an early lead with a leadoff walk in the first inning from Trevor Johnson followed by a single from Kevin Doody, which put runners at the corners. Greg Kocinski, who was 2-3 on the night, got one of his two RBIs in the first when he hit a sacrifice fly to score Johnson. Kocinski then continued to help the offense and the team in the top of the seventh when the game was tied. He notched his second RBI to score Mariano Ricciardi and gave Worcester a lead they never relinquished. Kevin Doody also played very well offensively going 3-5 with one run scored.
Head coach JP Pyne was very pleased with the entire team tonight after the win.
"It was a good win for us. We had a great start on the mound from [Justin Willis], and our bullpen has also been very good this last stretch," said Pyne. "We fell behind a little, but we were able to come back, so it's a good win for us for sure. The all star break is coming at a good time for us, it is a good time to regroup and get some guys healthy," said Pyne when asked about the up coming all star break.
The Bravehearts are back on the road tomorrow headed to Martha's Vineyard to take on the Sharks at 7:05. The team then comes back home Wednesday for a doubleheader against Bristol starting at 5:05. The team then goes back to the Vineyard Thursday, with first pitch at 7:05.