News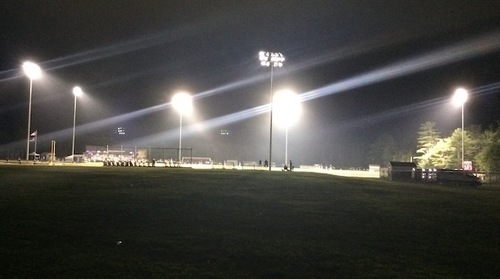 Oak Bluffs, MA — After scraping by Bristol with a 5-4 win on Monday night, the Bravehearts looked to get started on a hot streak as they took on the Martha's Vineyard Sharks. Worcester looked poised for a big win as the offense came up big, but heavy fog ultimately foiled their hopes and resulted in the game being called after the sixth inning with Martha's Vineyard leading 7-6.
West Chester product Jon Fisher went 3 innings, allowing five runs, only two of which were earned, while surrendering four hits and striking out two. Defensive miscues and four walks were responsible for Fisher's short outing.
Fisher and the Bravehearts staff were provided with plenty of run support, as Marist's Greg Kocinski went 3-3 with a single, a double and a home run and newcomer and Florida State senior Rafael Bournigal went 2-3 with a double and a towering 3-run homer to right-center.
The Bravehearts seemed to break the game open in the top of the third inning, scoring four runs on an RBI single by Franklin Pierce student-athlete John Friday and Bournigal's home run. However, Bravehearts' pitching would surrender four runs in the bottom half of the inning, leaving the game tied 5-5 at the end of the third.
Things looked bright for the Bravehearts when Kocinski launched a home run to right field to give them a 6-5 lead in the fifth inning.
The lead would hold up until the sixth inning, when heavy fog began to cover the field and prevent players from seeing the ball properly. What would have been routine pop flies ended up falling in for hits, as it was impossible for Bravehearts infielders to track the ball. The game would eventually be called after the sixth inning, but not before the Sharks were able to take the lead and deal UMass-Lowell's Kendall Pomeroy the loss. Pomeroy pitched well, as the fog resulted in a final pitching line that did not reflect his actual performance.
The Bravehearts look to bounce back at home on Wednesday, July 12 in a double header against the Bristol Blues. First pitch is at 5 P.M.