News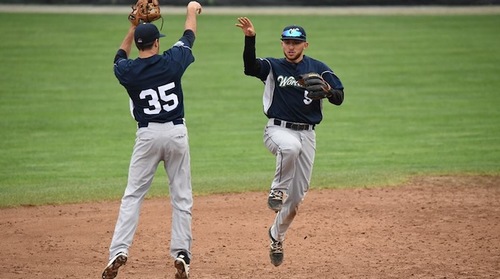 Worcester, MA — After three innings of baseball were completed on the Vineyard on Thursday night, the game was suspended due to rain. It was resumed in Worcester Friday night, as part of a double-header with the Sharks.
Worcester jumped out to an early lead on the Vineyard as the Bravehearts' offense was able to load the bases on a Greg Kocinski (Marist) walk and singles by both Rafael Bournigal (Florida State) and John Friday (Franklin Pierce). Bournigal would come in to score on an RBI groundout to second base by New Haven's Joe Caico.
Martha's Vineyard answered with a run of their own in the bottom of the first inning, but Northeastern product Sean Mellen was able to limit the damage before settling in to pitch two innings of shutout baseball before the game was called due to the rain. Mellen's final line was: 3.0 IP, 2 hits, 2 walks, 1 earned run, and 5 strikeouts.
The Bravehearts looked to take the lead in the top of the fourth inning, as they had runners on first and second with two outs as a result of a single by UMass-Lowell's Nick Barry and a Dante Ricciardi (Bryant) walk, but the rain did not allow for the game to continue, ending the night with two on, two out, and Dartmouth's Trevor Johnson up.
Continuing in Worcester, Johnson ended up coming through in a big way. Johnson tripled down the right field line scoring both Tom Walraven (pinch runner for Barry) and Dante Ricciardi.
The 'Hearts added another run in the fifth after a Nick Santucci single brought home Joe Caico, who reached on a walk. They took a 4-1 lead, and that is how the game stayed.
Wilson Taylor took the mound to start the fourth for Worcester and pitched four scoreless innings, giving up only 3 hits while striking out 4. He picked up his third win of the season.
Frank Moscatiello recorded the save, pitching a scoreless ninth.
Worcester will play the second game of the double header at approximately 7:05 pm.