News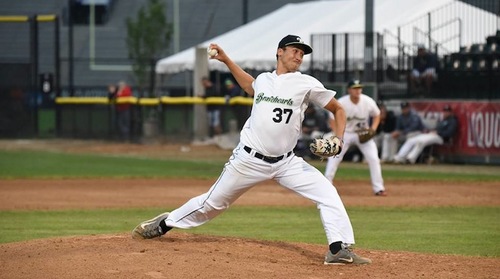 Worcester, MA — After taking the first game of a doubleheader, Worcester looked to grab four points in the standings. The 'Hearts took full advantage and managed to win the second game 7-3.
Billy Devito pitched for Worcester, but got into trouble early. The righty out of Hartford allowed two runs in the second inning due to a Jack Roberts RBI single, scoring Phillip Clarke who reached on a base hit of his own. Tyler Hardmar also reached on a walk and scored on a fielders choice hit by Blake Frampton. Devito finished 4.2 IP with 3 ER, 5 hits and 4 walks allowed.
Worcester managed to get the two runs back in the third, thanks to John Friday. After a Rafael Bournigal singled followed by a Greg Kocinski double off the top of the fence, Friday doubled down the right field line scoring both runs. Unfortunately, Friday was stranded on second.
In the fourth, Worcester took the lead thanks to a Bournigal groundout that scored Mariano Ricciardi. Ricciardi went 2-3 with a run scored on the day.
It was not long before the game was tied again. In the top of the fifth, Frampton singled and then scored thanks to a Troy Stefanski RBI single. That would end up being the last run of the game for the Sharks. With the bases loaded and two outs, Matt Geoffrion came in to pitch for Worcester. The righty got Tyler Hardman to fly out to center field to end the inning.
With one out in the sixth, Worcester rallied. Kevin Doody singled and stole second before quickly getting brought in by a Trevor Johnson single. Bournigal and Friday then singled to load the bases. Joe Caico walked in the fifth Bravehearts run of the day. Pat Demarco then hit a fly ball to the shortstop Luke Johnson who had the ball hit off his glove, scoring two more runs.
Frank Moscatiello came in to pitch the final inning and pitched his second scoreless inning of the day after pitching in the previous game earlier on today.
Worcester will play the Seacoast Mavericks Saturday at 7:05 pm. The game will be at home at Hanover Insurance Park.