News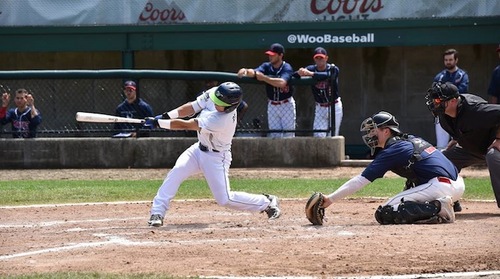 Worcester, MA- After two wins during a doubleheader yesterday against Martha's Vineyard, Worcester looked to continue their momentum against Seacoast. However, the Worcester bats were quiet throughout most of the game and the Bravehearts went down 6-3.
Worcester started off the game on a positive note, scoring early in the first. Trevor Johnson led off the first with a single and was brought in by a John Friday double. This held to be Worcester's only run until the 8th inning.
The Bravehearts started righty Sebastian Gruszecki, who was not able to keep Worcester in the ball game. Gruszecki pitched only 3 1/3 Innings while giving up 4 runs and 9 hits, taking the loss.
Seacoast countered with Aaron Brown, who pitched 6 innings, only giving up 1 run and 3 hits. Brown picked up the win for the Mavericks
Michael Goodrich started things off for Seacoast in the fourth inning. After a Jimmy Palmer single, Goodrich launched a home run to left field giving the Mavericks a 2-1 and they never looked back.
Jose Negron continued in the fourth with a two-run double scoring Sean Sullivan and Christopher Kanios. Negron then worked his way to score on a passed ball increasing the lead to 5-1. Negron continued in the fifth inning with an RBI single that scored Brock Henderson, making it 6-1.
Worcester climbed their way back but did not manage to tie the game. Kevin Doody scored in the 8th on a sacrifice fly from Trevor Johnson.
In the ninth, Worcester managed to load the bases with one out. Dante Ricciardi grounded out to shortstop, but did bring home a run making it 6-3. Kevin Doody grounded out to end the game, leaving runners on second and third.
Worcester will play tomorrow in Pittsfield at 5 pm. They will then take a four day break for the All-Star break.