News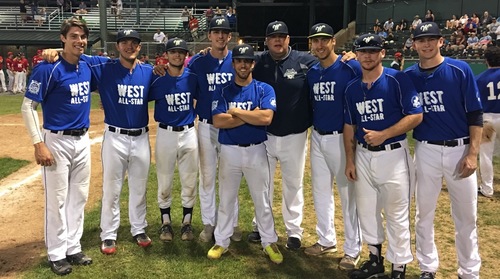 Bristol, CT — Eight Worcester Bravehearts players were named to the West All-Star team for Tuesday night's all-star game at historic Muzzy Field in Bristol, CT. Marist's Greg Kocinski, New Haven's Joe Caico, Hartford's Billy DeVito, and Dartmouth's Trevor Johnson were all in the starting lineup, while Maine's Kevin Doody, Rollins' Brian Auerbach, Maine's Cody Laweryson, and St. Thomas Aquinas' Frank Moscatiello were all reserves.
Billy DeVito got the start for the West All-Stars and showed that he deserved it, tossing one inning of scoreless baseball with the only blemish being a hit batter.
Greg Kocinski got the start at first base and went 0-2 with a fly out to third base and a fly out to center field. Joe Caico got the start in right field and went 0-1 with a walk and a groundout to second base after hitting six home runs in the first round of the home run derby. Trevor Johnson got the start in center field and went 0-2 with a strikeout and a fly out to right field. Kevin Doody was a late-inning substitution at second base and went 0-1 with a fly out to deep left.
Cody Laweryson had a strong outing, coming into a bases-loaded jam and getting a double play ball on the first pitch to end the inning. His final line was: 1.0 IP, 0 hits, 0 runs, one walk, and one strikeout.
Frank Moscatiello pitched well, going one inning and surrendering just one walk. He would pick off the base runner at first base moments after walking him.
Brian Auerbach surrendered the only two runs of the game, giving up a single and a 2-run home run after striking out the first batter he faced. His final line was: 1.0 IP, three hits, two earned runs, one walk, and one strikeout. He was strapped with the loss.
The Bravehearts are back in action on Friday, July 21 against the Wachusett Dirt Dawgs at Hanover Insurance Park. First pitch is at 7:05 P.M.