News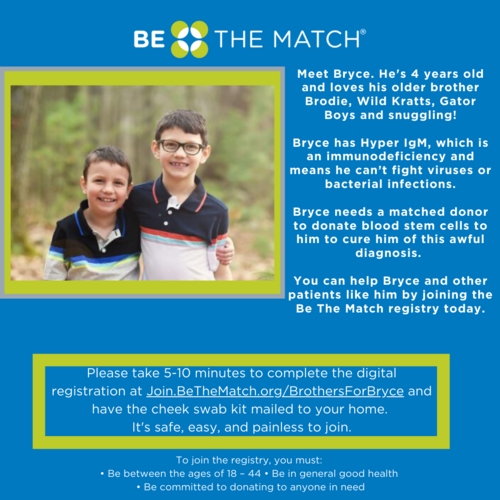 Meet Bryce. He's 4 years old and loves his older brother, Brodie, Wild Kratts, Gator Boys and snuggling!
Learn more about Bryce by watching this video of him.
Bryce has HyperIgM, which is an immunodeficiency and means he can't fight viruses of bacterial infections. Bryce needs a matched donor to donate blood stem cells to him to cure him of this awful diagnosis.
You can help Bryce and other patients like him by joining the Be The Match registry today.
Please take 5-10 minutes to complete the digital registration at Join.BeTheMatch.org/BrothersForBryce and have the cheek swab kit mailed to your home. It's safe, easy, and painless to join.
To join the registry, you must be between the ages of 18-44, be in general good health, and be committed to donating to anyone in need.