News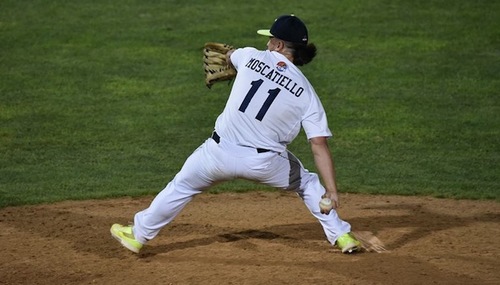 Worcester, MA- After losing a heart-breaker in a home run derby in the previous game against Wachusett, Worcester bounced back in a big way. The Bravehearts scored 5 runs in the 7th inning to beat the Brockton Rox 6-4.
Brockton got the scoring started early in the second inning, after Kyle Ruth walked with two outs and then stole second base. He was brought home on a Jake Rosen single to give Brockton an early lead. They continued in the third inning as Joe Silva was able to reach with two outs on a Mariano Ricciardi error. Kyle Simon capitalized on the next pitch as he launched a two-run home run making it 3-0.
Worcester did manage to get a run in the bottom of the inning. Bryan Hart got on with a walk and was brought in by a Kevin Doody single to cut the lead to 3-1.
Sean Mellen started for Worcester, going 3 2/3 Innings giving up three runs on only two hits. He struck out seven Rox batters. Kendall Pomeroy came through with 3 1/3 Innings in relief, only giving up one run and three hits.
The big story for Worcester's pitching was Frank Moscatiello, who came in for the 8th inning with the bases loaded and no one out. The righty was able to close out both the 8th and the 9th innings without allowing a run and only one hit while striking out five.
Matt Fogerty got the start for Brockton. He went 6 1/3 IP while giving up 3 runs and 5 hits.
Worcester's deciding inning came in the 7th where they managed to score five runs. Pat Demarco started the inning with a single. After a Nick Santucci fly out, Brett Coffel followed with a single. 3 consecutive walks to Dante Ricciardi, Bryan Hart and Mariano Ricciardi allowed Worcester to tie the game at 3. Kevin Doody hit a sacrifice fly to left allowing Worcester to take a 4-3 lead. Rafael Bournigal and Greg Kocinski each had RBI singles increasing the lead to 6-3.
Brockton managed to load the bases in the 8th but could only bring across 1 run. Kyle Ruth walked, bringing home Kyle Simon.
Frank Mosciatello managed to get a six out save, leading the 'Hearts to a victory.
Manager J.P. Pyne was pleased with his team's performance tonight. "The big inning really helped. We had some really good at-bats tonight."
With the win, Worcester improves to 18-21 on the season and is just one point shy of the sixth and final playoff spot. The Bravehearts play Wachusett tomorrow at 7:05 pm and Hanover Insurance Park.