News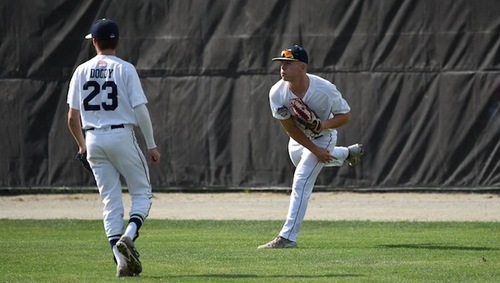 Worcester, MA- After a come-from-behind victory against Brockton, Worcester looked to carry the momentum into their game against Wachusett. From the start, the Dirt Dawgs had the game locked up as they scored 6 runs in the first, winning the game 18-8.
The scoring started early with a Mike Coggeshall hitting a sacrifice fly bringing in the first run of the game. Zack Tower followed with a two run home run increasing the lead to 3. Wachusett ended up getting 6 runs on the board in the first inning after Sean Webster hit a 3 run double bringing in Joe Jumonville, Jake Cordo and Chris Fedko.
Wachusett knocked Bravehearts' starter Sebastian Gruszecki out of the game after only one inning. The right from Florida Gulf Coast University allowed 6 runs, 5 hits and a walk in the one inning.
After Wachusett added another run in the third, Worcester came back and scored two runs in the bottom of the inning. Mariano Ricciardi reached on an error and scored on a wild pitch later in the inning. Pat Demarco brought home the second run of the game, scoring Greg Kocinski, who doubled.
Wachusett added another 6 run inning in the top of the fifth. Ryan Lever, Mike Coggeshall and Kyle Cala each recorded RBI hits, increasing the lead to 13-2.
Rafael Bournigal managed to double to lead off the bottom of the fifth. After advancing on a Demarco base hit, Bournigal scored on a sacrifice fly from Nick Santucci. Worcester trailed 13-3 after 5 innings.
Worcester attempted to rally in the sixth, but only came away with 3 runs. Kevin Doody and Rafael Bournigal both recorded RBI singles, while Greg Kocinski walked to bring home the sixth run of the day for Worcester.
Zack Tower hit his second home run of the game in the 8th inning, which brought in three more runs for Wachusett. Tower finished the day 3 for 6, with 2 home runs and 6 RBI.
For Worcester, Bournigal and Kocinski hit RBI singles in the 8th inning. However, that was all Worcester managed to get across.
With the loss, Worcester drops to 18-22 on the season. The Bravehearts and Dirt Dawgs meet again tomorrow at 7:05 at the HIP.