News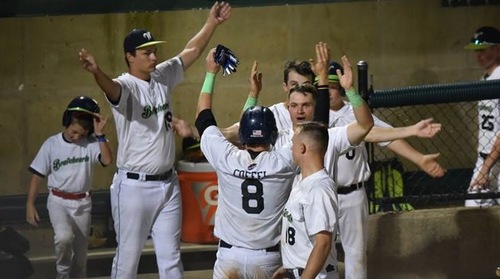 Worcester, MA- Coming down the playoff stretch, every game has been important for this Bravehearts team. Worcester walked off in the bottom of the ninth with an 8-7 victory over Martha's Vineyard in one such important game on Tuesday night.
Worcester got the game started early in the first. Kevin Doody reached on a walk and then proceeded to steal second. Doody then scored after an error by the Sharks' pitcher Connor Donahue on a ball hit by Pat Demarco.
The 'Hearts continued in the fourth after a Rafael Bournigal walk followed by a Brett Coffel double which plated Bournigal. Coffel then scored after a balk to make the score 3-0.
Starter R.J. Hall went 4 2/3 IP for Worcester. He gave up 3 runs, 6 hits and a walk.
In the sixth, Worcester found themselves tied 3-3. Jack Zagaja hit a solo home run for Martha's Vineyard, which was followed by a double from Tyler Hardman. Kevin Alexy brought in Hardman to make it 5-3. The Vineyard added two more runs in the 7th to make the score 7-3.
In the bottom of the 7th, Worcester came back in a big way. John Mazza lead off with a single, followed by Mariano Ricciardi reaching on an error. The next four Braveheart batters reached to make the score 7-7. Trevor Johnson reached on an error, Kevin Doody walked, Greg Kocinski singed, and Pat Demarco reached on an error to the center fielder, which brought in Doody as the tying run.
Worcester found a little magic in the ninth thanks to Brett Coffel. With his family on-hand coming all the way from Florida, Coffel delivered a two out double in the ninth inning. The double brought home Rafael Bournigal as the game winning run to give Worcester an 8-7 victory.
"My brother made me feel much more confident at the plate," said Coffel. "He's such a big help."
With the win, Worcester moves to 20-22 and now owns the fifth spot in the playoff seeding. The Bravehearts travel to Nashua tomorrow to play the Silver Knights. First pitch will be at 7:05 pm