News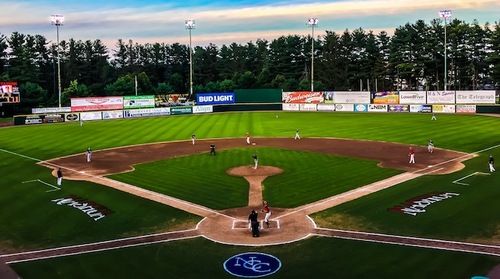 Nashua, NH — The Silver Knights tacked on four runs in the first inning and didn't let go of the lead for the remainder of the night in a 9-4 victory over the Bravehearts Wednesday night. A four run first, a two run third, and a three run eighth was enough for Nashua as Worcester pushed and fought, but couldn't quite get the edge they needed.
Newly-added Connor Lehmann got his first start as a Braveheart Wednesday. Lehmann went 2 2/3 innings allowing seven hits, six earned runs, and had one strike out. The highlight of the night for Worcester was relief pitcher Tyler Lonestar. Lonestar came in for 4 2/3 innings, allowing seven hits, zero runs, and had two strike outs. Anthony Auletta came in for 1/3 of an inning along with Matt Geoffrion, who let up a bases clearing double to Anthony Meduri that secured the win for the Knights. The runs were charged to Auletta.
The Silver Knights jumped out early after back-to-back singles in the first inning from Cam Cook and Harry Roberson. A fielder's choice moved the runners over and scored Cook. Ryan Sullivan singled to put two on for Kyle Bonicki, who lifted a three-run homer to get ahead early.
The Bravehearts kept themselves in the game with a two run fourth inning. They had help from Pat DeMarco and Brett Coffel, who started the inning off with singles. Dante Ricciardi knocked in one of the runs on a fielder's choice, and Nick Santucci had an RBI single that same inning. Bryan Hart gave the 'Hearts some life with a two-run home run in the eighth, but it wasn't enough to give the Bravehearts the lead.
Tyler Lonestar was very happy with his performance, after struggling early in the year.
"Tonight felt good. I was struggling early on, but I just wanted to come out and give my team a chance to win", the righty said. "The team is in a good vibe right now. We added some new pieces and hopefully that is enough to help with this playoff push," Lonestar stated when asked about the race to the playoffs.
In addition to Lehmann, the Bravehearts signed infielder Brian Goulard earlier in the day. Goulard is a junior at Fordham University and hit fifth in the lineup as the designated hitter tonight. He went 0-3 with a walk.
Worcester is back at home tomorrow to take on the Pittsfield Suns, followed by a game Friday night against the Seacoast Mavericks. First pitch for both games at 7:05.