News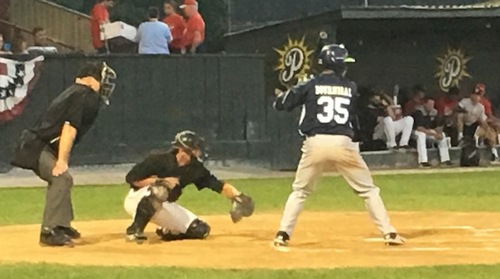 Pittsfield, MA — The sun was out in Western Massachusetts on Monday as were the arms and bats for the Worcester Bravehearts, who were victorious over the home team Pittsfield Suns, 7-2. The offense for Worcester jumped out to an early lead, while the pitching helped maintain that same lead.
Justin Willis got the ball and the win for Worcester tonight. Willis had a very strong outing going six innings, allowing five hits, one earned run, and tacking on five strikeouts. Willis did what he does best and worked fast and economically to help keep the big lead for Worcester. Tyler Lonestar came on in the seventh inning and tossed three innings, only allowing two hits and one earned run to cap off the win.
Worcester got on the board first in the top of the third when Kevin Doody led off with a walk. Doody then stole second and was then brought home on an RBI single from Rafael Bournigal.
The big inning was in the top of the fifth when the Bravehearts tacked on five runs. Doody and Bournigal started the inning off with back-to-back walks. Pat DeMarco then doubled to bring home a run and put runners on second and third. The bases then became loaded after Greg Kocinski walked. Brian Goulard and Dante Ricciardi each had back-to-back singles that each brought home two runs to make the score 6-1. Worcester scored the seventh and final run after Bournigal walked and later scored on Brett Coffel's RBI double in the sixth inning.
The player of the game offensively for Worcester was Rafael Bournigal, who went 2-2 with three walks and an RBI.
"It's a big thing to show that we can rally in the last half of the season," Bournigal said. "Only eight games are left, so we are going to have to finish strong and see what can happen. Being around a great group of guys and a great coaching staff is very important to thrive and succeed, so it really means a lot," said the infielder from Florida State after being asked about the opportunity to play in Worcester for two consecutive years.
Worcester is back home tomorrow August 1st, 2017 at 7:05 to take on the Nashua Silver Knights. The Bravehearts are then on the road the next two days to take on the Wachusett Dirt Dawgs at 6:35.