News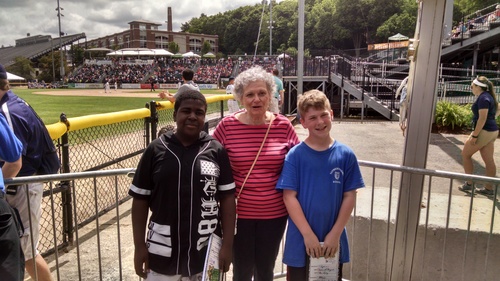 Worcester, Mass., June 4, 2019 — Dozens of local middle school students and their senior citizen pen pals will meet for the first time during Worcester Bravehearts home games on June 5 and June 6. The meetings will culminate their five-month participation in a pen pal club sponsored by Fallon Health.
The students and seniors will gather for the game and a cook-out under a tent in left field. The games start at 10:30 and are played at Hanover Insurance Park at Fitton Field, College of the Holy Cross, 1 College St. Worcester. Photo opportunities will include students and seniors meeting, discussing their correspondence and enjoying lunch.
"Senior citizens are a vital part of our community. The wisdom contained in the journal pages will provide a new perspective on the world the students are growing up in. And for Seniors, this is an opportunity to learn the latest trends, and maybe even surprise their grandchildren with what they've picked up. Fallon Health is thrilled to play a role in bringing these two generations together, creating a powerful connection that brings smiles and laughter to all participants," said Christine Cassidy, Chief Communications Officer at Fallon Health.
"Watching the students and seniors connect through the Pen Pal Club is a rewarding experience. Both sides are surprised by what they learn. For the seniors, that may be the latest trends in video games or smartphones. For the students, it means communicating without technology," said Dave Peterson, General Manager of the Worcester Bravehearts.
Students who participated in the pen pal program are from the Abby Kelley Foster Charter Public School and Swanson Road Intermediate School. Participating seniors are from Goddard/Homestead assisted living home and the Willows Retirement Community. In all, approximately 80 students and seniors participated in the pen pal program. They will attend the games in two groups – one each on June 5 and June 6.
Launched in 2015, the Pen Pal Club has reached nearly 300 students and senior citizens in Worcester County. The effort is part of the Baseball in Education initiative through the Futures League (FCBL) that will welcome thousands of local students to Hanover Insurance Park at Fitton Field this summer.
Tickets for all Worcester Bravehearts home games are available online at Worcesterbravehearts.com or by calling 508-438-3773.
# # #
About the Worcester Bravehearts:
The Worcester Bravehearts baseball team is owned and operated by the Creedon family, who also own and operate Creedon and Co., Inc., a catering & tent and event rental equipment company in Worcester, MA. The Bravehearts ballclub is a franchise in the Futures Collegiate Baseball League (FCBL) and play at 3,000-seat Hanover Insurance Park at Fitton Field on the campus of the College of the Holy Cross. The Bravehearts won the FCBL Championship in 2014, 2015, and 2018. In 2014, 2016 & 2017, they were also voted FCBL Organization of the Year. For more information about Creedon and Co., Inc., see www.CreedonAndCo.com. For more information about the Worcester Bravehearts, see www.WorcesterBravehearts.com.
About the Futures League:
The Futures League (FCBL) is a summer collegiate, wood bat league in its eighth year of existence and features seven teams throughout New England including the Worcester Bravehearts, Brockton Rox, Bristol Blues, Nashua Silver Knights, North Shore Navigators, Pittsfield Suns, and Westfield Starfires. The Futures League drew 261,930 fans in 2018 and a league-record average of 1,514 fans per night. Each franchise in the Futures League is made up of elite collegiate athletes competing in a minor league style format. Each franchise provides high quality, affordable entertainment, in a casual, family-friendly atmosphere. You can follow them at www.thefuturesleague.com.
About Fallon Health:

Founded in 1977, Fallon Health is a leading health care services organization that supports the diverse and changing needs of those we serve. In addition to offering innovative health insurance solutions and a variety of Medicaid and Medicare products, we excel in creating unique health care programs and services that provide coordinated, integrated care for seniors and individuals with complex health needs. Fallon has consistently rated among the nation's top health plans by the National Committee for Quality Assurance. For more information, visit www.fallonhealth.org.