News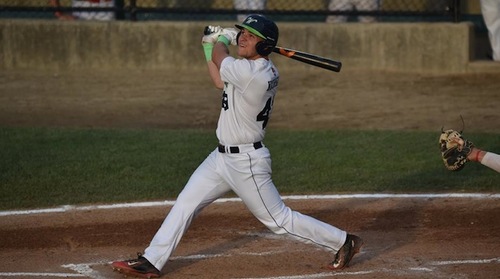 Leominster, MA— The Bravehearts combined for three home runs, including two in the eighth, to beat the Dirt Dawgs in the first game of a doubleheader. The game was originally scheduled for seven innings, but it went into extras after Worcester blew a three-run lead in the fifth. The Bravehearts would score three runs in the eighth to take the lead for good.
Worcester struck first in the third inning when Greg Kocinski knocked in Rafael Bournigal with a ground ball. Then in the fifth, Kocinski would put the Bravehearts up 3-0 with a two-run home run. However, Mike Coggeshall hit a three-run homer in the bottom half of the inning to tie the game for Wachusett. Coggeshall went 3-4 on the night.
In extra innings, Kocinski struck again, this time with a solo shot, to give the Bravehearts a one-run lead. Two batters later, Brian Goulard hit a two-run home run to give Worcester a 6-3 lead. Kocinski finished 3-4 with two homers and four RBI's.
Cody Laweryson got the win for the Bravehearts. He entered the game in the fifth inning for starter R.J. Hall and he allowed no runs over 2 and 2/3 innings pitched. Frankie Moscatiello picked up the save, while Benjamin Lodge got the loss for Wachusett.
With the win, Worcester improves to 23-26, while Wachusett falls to 27-22. The Bravehearts play the second game of the doubleheader Thursday night at 7:30. The team then travels to Nashua on Friday night to face the Silver Knights.