News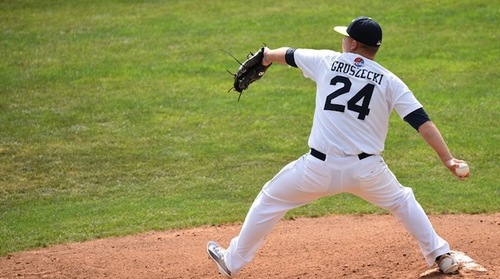 Pittsfield, MA- Two seasons ago, Worcester started the season 2-10 and slid into the final playoff spot of the season. With a 3-1 win on Sunday night, Worcester once again clinched a playoff berth on the last game of the season. During the 2015 season, Worcester won the FCBL championship.
Things did not look good for starting pitcher Sebastian Gruszecki early, as he gave up his lone run in the first inning after allowing 2 walks and a single. After that lone run, Worcester's pitching shut Pittsfield out. Gruszecki pitched 4 innings, only allowing one earned run and two hits. He saved his best outing for his final game of the regular season.
"We knew it was win or go home. It meant a lot to me that J.P. gave me the ball tonight. We have built such great relationships," Gruszecki commented on the playoff clinching win.
Justin Willis came in for relief and shined. The righty from Vanderbilt pitched 5 no-hit innings, propelling Worcester to a victory. He struck out 6 in his shut-out performance.
On the offensive side, it was Rafael Bournigal who shined. The shortstop out of Florida State went 3-5 on the night with an RBI. Known for his defense, Bournigal was able to lift the Bravehearts offense with a team-high 3 hits.
It was in the third inning where Greg Kocinski doubled, which scored Mariano Ricciardi, who reached on a walk. In the fourth, Worcester broke the tie thanks to Bryan Hart triple that scored Dante Ricciardi. Rafael Bournigal then doubled in Hart which increased the lead to 3-1. The Bravehearts would not relinquish the lead.
With the win, Worcester tied the Martha's Vineyard Sharks as the sixth and final spot in the playoffs. The first tie-breaker is head-to-head matchups which was tied 3-3 between the two. The second tie-breaker is win percentage against the other 5 playoff teams. Because Worcester had a better win percentage, they clinch the final spot in the playoffs. If the win percentage of playoff teams would have been tied, it would have come down to a coin-flip for the sixth spot. Luckily, it seemed Worcester stepped up against better competition.
Worcester will play the Wachusett Dirt Dawgs at Doyle Field in Leominster at 6:30 pm on Tuesday. It will be a one game playoff to decide who gets into the second round.