News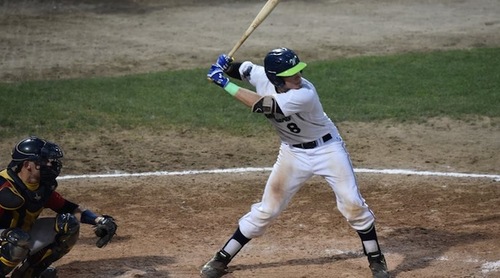 Leominster, MA- Two days after Worcester was unsure if they would even be playing postseason baseball, they will now advance to the second round against the Brockton Rox. Worcester beat the Wachusett Dirt Dawgs 9-2 in a single elimination game to advance to the semi-finals.
As they have done many times in the regular season, Worcester got the scoring going early. With the bases loaded in the first, Brian Goulard grounded to second, but in the process scored Kevin Doody for the game's first run.
In the fourth inning, Dante Ricciardi scored on a Kevin Doody single to increase the lead to 2-0.
However, the story of the game was Worcester's designated hitter Brett Coffel. The St. Leo product homered for the first time in the game in the 4th inning, blasting a three-run moonshot to left field, making the score 5-0. Coffel then came up in the sixth and hit a second home run, this time a solo blast.
"I'm locking in. Getting good at-bats leads to good hits. I'm happy my dad was here to see it," said Coffel.
Dante Ricciardi also came up clutch, with a solo home run of his own. His first home run of the season put Worcester up 6-1 and gave the team complete momentum.
Even though Worcester put up 9 runs in the game, the pitching did not need nearly that much. Billy Devito got the start for Worcester and had one of his best starts of the season. The righty went 6 innings, allowing only 7 hits while striking out 9.
"I tried to keep the ball down low tonight. I appreciate the confidence J.P. (Pyne) has in me," said the righty out of University of Hartford.
The bullpen came in for Worcester and finished the job. A combination of Cody Laweryson, Anthony Auletta and Matt Geoffrion combined for 3 innings, only giving up 1 run while striking out 6.
With the win, Worcester will play the Brockton Rox tomorrow at Hanover Insurance Park, followed by an away game at Campenelli Stadium in Brockton. If a third game is necessary, it will also be played in Brockton. First pitch tomorrow will be at 7:05 pm. All tickets will be $5 and the box office will open at 8 am to pre-order tickets.
Season ticket holders can utilize the ticket in their books marked "Playoff game A" for admission to the game.