News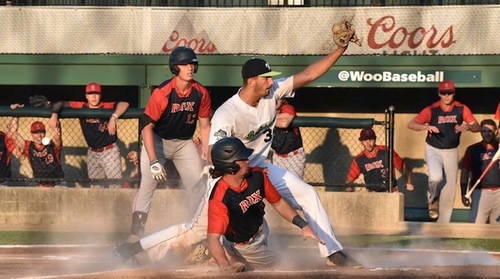 Worcester, MA- After a win against the Wachusett Dirt Dawgs advancing Worcester to the second round, the Bravehearts came back home for game one of a best-of-three series against the Brockton Rox. In the first game, Worcester continued their hot streak with a 4-3 victory.
In typical Worcester Bravehearts fashion, the team got off to an early first inning lead. After Rafael Bournigal started the inning with a double off the fence in right, Greg Kocinski brought him home after grounding out to second base. Catcher Brett Coffel then reached on an error by Rox third basemen Chris Berry. Pat Demarco continued the inning, shooting a double into the right-centerfield gap that scored Coffel.
Worcester got another run in the second inning after a two-out RBI single by the centerfielder Kevin Doody, which scored Nick Santucci.
In the bottom of the fourth, it was Kevin Doody again, who singled in another run. This time, it was Bryan Hart who crossed the plate after doubling earlier in the inning.
Starting pitcher Kevin Stone was able to go five scoreless innings before getting into some trouble in the sixth inning. He ended up allowing 3 earned in the inning. His final line was 5 2/3 IP, 3 ER, 4 H and 3 Ks.
" We stuck with the gameplay early, I was able to pound the zone early on. I'm really happy to be back for a championship run," said Stone on his early performance.
The Bravehearts had a dominating performance from their bullpen as well, led by Cody Laweryson. The righty out of Maine pitched 2 1/3 innings of scoreless baseball, striking out 5 batters in the process.
" Locating pitches is huge, especially against a team that hits as well as Brockton," Laweryson commented on his success out of the bullpen.
With the win, Worcester is now one game away from the championship series. However, they will have to win one out of the next two games against the Rox. Both games will be played in Brockton at Campanelli Stadium . First pitch tomorrow will be at 7:05 pm. For Bravehearts fans, a fan bus will be leaving the field at 5:15 for Brockton. The fee of the bus and the ticket will be $30.