News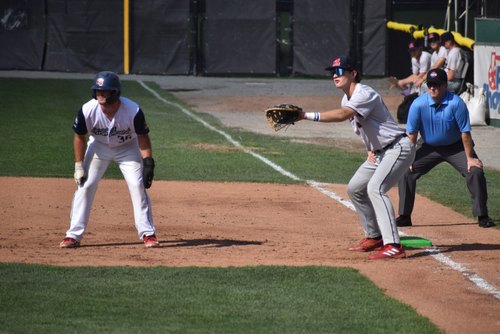 Worcester, MA – The Worcester Bravehearts defeated the Brockton Rox 13-3 on Sunday. The win came by mercy rule in the seventh inning, per Futures' League guidelines. This makes Worcester's overall record 35-20 for the season.
Brockton got the scoring started in the second inning, when Jordan Kahn (Georgetown) grounded-out, allowing Ryan MacDougall (University of Dayton) to cross home, making the score 1-0 in Brockton's favor.
The 'Hearts soon countered Brockton's run in the bottom of the second. A single by Marc Willi (Michigan) brought in one run, followed by an Andrew Chronister (Shippensburg) double, which allowed two additional runs. An error by Brockton's catcher allowed Chronister to score, and finally a single by AJ Guindon (Wheaton) added one last run for the inning. This made the score 5-1.
The Rox added an additional run in the third on a Daniel MacDougall (Endicott) grounded-out, allowing Ryan Gerety (Northeastern) to score.
A second five-run inning by Worcester widened the gap over Brockton in the third. A run was walked in by the Rox's David Floyd (Keene State), and then a double by Matty Warren (Palm Beach Atlantic) cleared the bases, bagging three more runs scored. A wild pitch allowed one more player to cross the plate, ending the inning 10-2.
Worcester added insurance in the fifth, with three runs scored. Two of these runs were scored on an error, and a third was scored when one last Braveheart crossed the plate on a Daniel Bucciero (Fordham) ground-out.
The Rox managed to add a third run in the sixth, but a subsequent scoreless inning ended the game in Worcester's favor by mercy rule. The final score was 13-3.
The winning pitcher was 'Hearts starter JT Raab (Stony Brook), who allowed five hits and two runs in four innings pitched. The losing pitcher was Floyd, who allowed eight hits and ten runs in just over two innings pitched.
Worcester will return back to Fitton Field on Tuesday in a matchup against the Norwich Sea Unicorns. First pitch is scheduled for 6:30 p.m.