News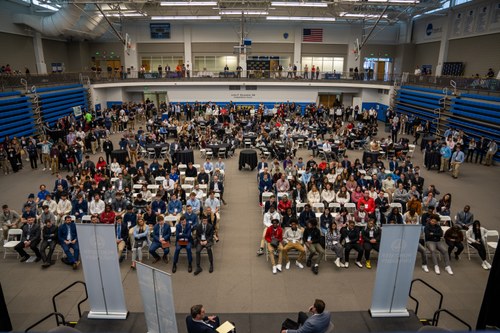 Worcester, MA - On Friday, February 10th, the Worcester Bravehearts hosted 700 attendees during their third annual Worcester Sports Management Summit. A majority of those attendees were made up of high school and college students, looking to take their first step towards a career in sports.
After cancelling the event in 2021 and 2022 due to Covid-19, and lack of positions open in sports, the Bravehearts came out swinging in 2023 to host a summit that featured 30+ Sports organizations including five Boston Sports organizations and eight Worcester Sports organizations. Teams with representation included the Patriots, Celtics, Bruins, Red Sox, Revolution Railers, Pirates, WooSox, Holy Cross Athletics and more. The Bravehearts also welcomed panelists from ESPN, the New York Mets, Washington Nationals, 98.5 the Sports Hub and DraftKings.
In total, 37 colleges and 21 high schools were represented at the event, with many of them coming in groups, taking class trips to attend the Summit. Over 40 students from the Worcester Public Schools were in attendance, eager to make connections to break into the industry.
"I grew up in Worcester, and never had an event like this," said Bravehearts Director of Fan Experience Donny Porcaro, who organized the 2023 Worcester Sports Summit. "I wanted to build this Summit with not only the college seniors in mind, but the high school freshman. My goal was to make this the first step towards a career in sports for some, and the final step before finally landing that full-time job for others. I hope that both were achieved today."
Porcaro, a 2016 graduate of Holy Name Central Catholic High School in Worcester, had spent time with the Boston Celtics, Boston Bruins and Worcester Red Sox before transitioning to a full-time roll at the Bravehearts in 2021.
Kit Hughes, Director of Athletics for The College of the Holy Cross, started off the day with a Keynote Discussion with Spectrum1 News Anchor Kevin Shea. The two discussed Hughes' career prior to Holy Cross, advice to students looking to break into the industry, and opportunities that are available locally.
After the Keynote, students dispersed into the job fair and panel discussions. The event offered two sets of two panels featuring some trending topics in the sports business industry, as well as some resource panels for local students in the area. The full list of panels can be found here.
"It was an incredible day," said Bravehearts General Manager Dave Peterson. "At the Bravehearts we strive to be the thought leaders in the sports industry. We hope that this opened up many doors to anyone who is looking to work in sports."